Editorial Regulations of Oncology and Radiotherapy
Oncology and Radiotherapy is a peer-reviewed medical journal publishing original scientific papers (experimental, clinical, laboratory), review and case studies (case report) in the field of oncology and radiotherapy. In addition, he publishes letters to the Editorial Board, reports on scientific conferences, book reviews, as well as announcements about planned congresses and scientific congresses. Oncology and Radiotherapy appear four times a year. Articles are also available at www.itmedical.pl and www.medicalproject.com.pl. The journal is indexed in: GBL, Index Copernicus, Ministry of Science and Higher Education, EBSCO. The editorial team accepts for publication in English, in Polish and English with summaries and key words in Polish and English. Oncology and Radiotherapy publishes works in a bilingual version, the leading language of the magazine is English. If the work is not translated by the author, the Editors provide a translation of the text. The Editorial Board of Oncology and Radiotherapy is guided by the general principles contained in the Helsinki Declaration and expects the authors of the research, whose results are to be published in Oncology and Radiotherapy, observing its laws. Authors of works using animal models are obliged to follow the rules formulated by the Interdisciplinary Principles and Guidelines for the Research, Testing, and Education adopted by the New York Academy of Sciences Adhoc Committee on Animal Research. Any work submitted for publication, requiring the approval of the Ethics Committee, appropriate to the territorial location, should include such consent.
Detailed information for Authors and Reviewers - download * pdf.
WARNING!!! Authors are asked to follow the rules of publication of works.
Contact with the Oncology and radiotherapy publisher:
Wydawnictwo SALVE / itMedical Team Sp. z o
. o . Sweet 20 | 43-300 Bielsko-Biała
Office: ul. Wita Stwosza 6A / 1 | 43-300 Bielsko-Biała,
phone: 33 499 97 87
mail: [email protected]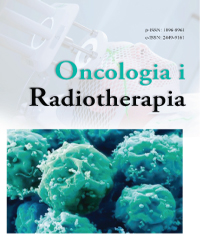 Editors List
Andrzej Zdziennicki

Institute of Gynecology and Obstetrics, Medical University of Lodz, I Clinic of Gynecology and Gynecological Oncology (Lodz, Poland)

Krzysztof Urbanski

Head of the Oncology Gynecology Clinic, Oncology Center - Instytut im. Maria Sklodowska Curie, Department in Krakow (Krakow, Poland)

Andrzej Szawlowski

Klinika Nowotworow Gornego Odcinka Uklad Digestii, Oncology Center - Institute (Warsaw, Poland)

Skowronska-Gardas

Department of Radiotherapy, Oncology Center-Institute (Warsaw, Poland)

Serban-Dan Costa

Head of the Obstetrics and Gynecology Clinic of the University of Otto von Guericke (Magdeburg, Germany)